Celebrate your child's birthday at Puppet Showplace Theater
Puppet Showplace Theater has been hosting memorable birthday parties for decades, and we are proud to have been named "Best Kids' Birthday Venue" (Boston Magazine, Best of Boston).
From our spectacular puppet shows to our brightly-colored, kid-friendly lobby, a birthday party at Puppet Showplace will be an unforgettable experience for you, your family, and friends!
To book your party: Call 617-731-6400 x 101
Booking Your Event
Birthday parties at Puppet Showplace are popular events and available times fill up quickly. We encourage early inquiries (one to two months in advance) to avoid disappointment and so we may provide you with the widest range of party options.
Each puppet show is different and varies in theme, style, and age recommendation. Consult our schedule for descriptions about each show, or call the box office for details about each performance.
For more information or to book your event today, contact the Box Office at 617-731-6400 x 101 or boxoffice@puppetshowplace.org.
For more information about shows at a birthday party you are hosting outside of Puppet Showplace, please see our page for touring performances.
Planning Your Party
There are two types of birthday parties you can host with us:
Public Party (our most popular option!): Invite a group to one of our regularly-scheduled performances and host a party after the show. The box office will reserve seats for the birthday group at your preferred performance, and the birthday child's name will be announced before the puppet show begins. After you and your guests enjoy the puppet show, we welcome you to gather for a birthday party in our lobby.
Private Party: Arrange a special showtime and enjoy exclusive use of the theater for you and your guests. Post-show lobby rental and staff assistance are included in the price.
For both public and private parties, Puppet Showplace provides the performance and party venues, buffet tables and tablecloths, and access to our kitchenette. You bring the refreshments, paper goods, and any games or activities you would like to have at the party. Theater staff will set up your refreshment tables while you are enjoying the performance. When the party is over, we will take care of the clean up!
While our theater can seat up to 95 patrons, our lobby can comfortably accommodate a maximum of 60 children and adults.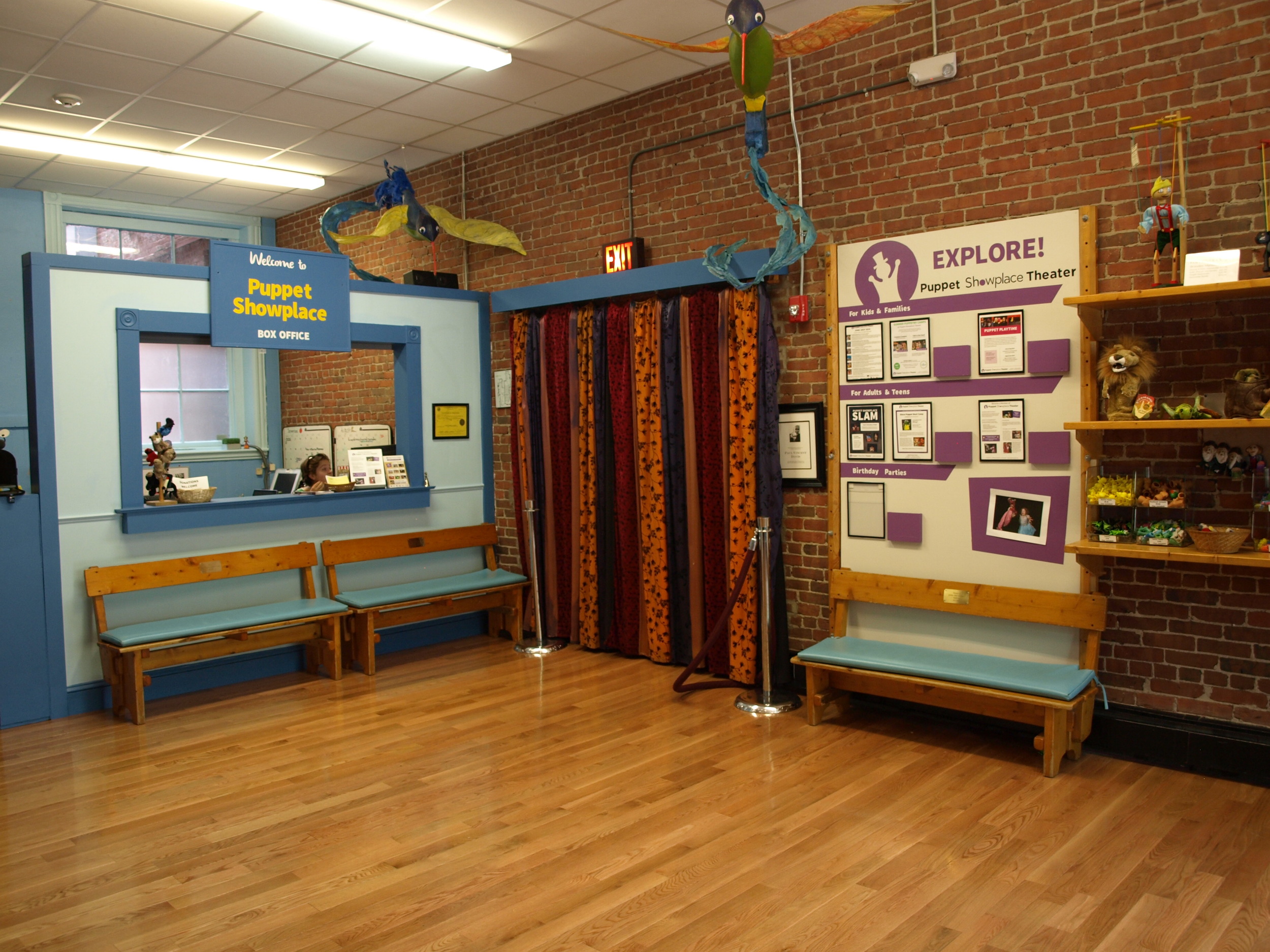 Ticket and Facility Rental Costs
Ticket prices for public shows are $12.50-$16 per person. For groups of 20 or more, tickets are $10.50-$12 per person. Tickets are required for all children and adults attending the show.
Following a public show, lobby rental is $125 for 1-hour, and $75 for 1/2-hour. Private parties cost a flat fee of $575. This rate includes the performer's fee, staff time, and performance space/lobby rental.
A non-refundable $100 deposit is required for all birthday party reservations. Ticket reservation numbers must be confirmed 48 hours in advance of the party date. As a courtesy for birthday party groups we will provide you with a 5-ticket variance ($52.50 balance). If you anticipate needing more tickets, please contact the box office immediately.
Puppet Showplace has a puppet store for those seeking puppet-themed party favors. Small puppets are available for prices ranging from $0.25 to $5.00.
MEMBERS SAVE! Puppet Showplace members receive discounts on birthday party rentals: $100 for one hour, $50 for a half-hour, and $525 for private parties. Learn more.
Birthday Workshops and Touring Performances
Interested in a unique birthday party experience? Birthday party workshops and touring performances are also available. We'll bring the puppets to you! Rates vary depending on workshop content, show title, facility location, group size, and duration.
Questions? Contact Us!
Our staff is happy to answer any questions you may have. For more information or to book a birthday event, call the Box Office at 617-731-6400 x101, or e-mail boxoffice@puppetshowplace.org.