Puppets come in all shapes and sizes, and from every corner of the globe — just like us. Our annual "Puppets Around the World" series features international puppetry styles and stories, as well as classes for all ages and skill levels. Explore puppets big and small, far and near, all the while laughing and learning!

"Puppets Around the World" runs from February vacation week through the first weekend in April. (Learn more about the series here, and register for adult or youth classes and camps today!)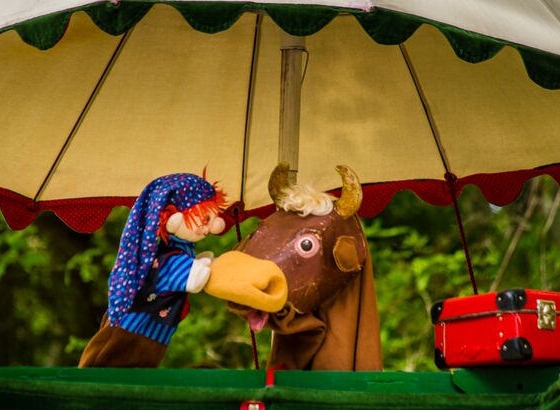 STORIES FROM ALL OVER!
AUSTRALIA: Dreamtime: Tales from Down Under by Barefoot Puppets (Feb 24 - 26)

WEST AFRICA : Trickster Tales by Barefoot Puppets (March 2 - 5)

AMERICA: Raccoon Tales by Brad Shur (March 9 - 12)

CHINA, INDIA, JAPAN, & BEYOND: Shadows Around the World by Nappy's Puppets (March 16 - 19)

CHINA: Hao Bang Ah, Rooster! by Chinese Theater Works (March 23 - 26)

GERMANY: Punschi: The Adventures of Kasper by Sandglass Theater (March 30 - April 2)
SPECIAL NEWS!
Tuesday, March 21 is WORLD PUPPETRY DAY! On this special day, puppeteers, puppet lovers, and puppets themselves come together to honor their wonderful diversity. Learn more about Puppeteers of America, UNIMA, this happy occasion, and how people across the globe are celebrating the magnificent art of puppetry!
Of course, you can party with Puppet Showplace all month long! Celebrate with an art form as old as time itself — and fun since day one!